Overview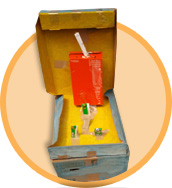 Build an old fashioned "arcade" out of cardboard and tape. I've done this twice with my grade 2/3 class. Once with grade 6 buddies and once partnered with another grade 2/3 class.
Rationale (Why we are doing this?)
Working in a group to brainstorm and create a game
Design rules and establish tiered reward for prizes
Working with money(math)
Creating an event that the whole school can participate in
Materials/Resources
Scrap/used cardboard (letter home asking parents, Costco, etc.)
Packing tape and tape guns
scissors for students and a box cutter for the teacher to use as needed (optional)
Prizes for the games (letter home asking for donations of unwanted toys or stuff from dollar store or aliexpress.com
Prize tickets (dollar store)
classroom money
Context and Background Knowledge
Watch the Caine's Arcade video on YouTube. Research old fashioned arcade games (look up "carnival games" or "cardboard arcade games" on Google)
Curricular Connections (Competencies and Content)
| | |
| --- | --- |
| Add to other's ideas | Applied Design |
| Use trial and error to make changes, solve problems or incorporate new ideas from self or others | Applied Design |
| Reflect on their ability to work effectively both as individuals and collaboratively in a group | Applied Design |
| Develop their skills and add new ones through play and collaborative work | Applied Skills |
| Generate and introduce new or refined ideas when problem solving | Science – 2 |
| Co-operatively design projects | (Science-4) |
| Work respectively and constructively with others to achieve common goals | (Career Education – 2) |
| Direct linear measurement | (Math – 2/3) |
| Financial literacy | (Math – 2/3) |
Explore + Understand + Create (Key elements/Lesson Design/Format)
Watch the Caine's Arcade Video
Brainstorm possible arcade games after researching on the internet
Groups draw up the game they wish to make
Start working with cardboard
For younger grades the teachers can hand out strips of tape from the tape gun, older grades can use it themselves
Pause and discuss what is working and what isn't
Once the arcade is finished discuss a consistent prize system (3 chances, wins 2 tickets, 5 tickets, 10 tickets)
Decide 3 tiers of prizes and how many tickets are needed
Invite other classes to come play! I provide the classes with play money so they can actually pay for the games.
Special Notes
I found a bunch of lesson plans here: http://cainesarcade.com/schools/activitykits/