Overview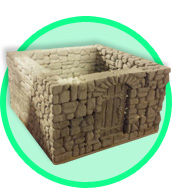 Using a geometric map as a template, students construct a castle from individual hydrostone plaster bricks. Students are challenged to create proper angles of construction i.e. 90 degree corners, and maintain architecturally sound walls as the building progresses. Once the castle is constructed, students create a three dimensional setting on which to place the structure, using different types of art materials to create museum quality displays.
Rationale (Why we are doing this?)
When students apply skills and understanding in a tangible, "hands-on" way, learning is enhanced, higher thinking skills are developed, and learning is fun.
Materials/Resources
Teacher supplies:
Bricks in sufficient number to create whichever model is chosen (Hirst Bricks)
High quality white "tacky" glue
Sandpaper
Base material made from carved plastic sheeting
Paints
Landscape modelling materials to simulate earth, grass, bushes, trees and rocks
Materials can be purchased to http://stores.castlekits.com/categories/complete-kits/gothic.html?sort=featured&page=3
Students supply:
all materials needed are supplied by the teacher
Context and Background Knowledge
Student will have to have a basic lesson in geometric map reading, and how to use the materials provided in order to create the project. Students will also have a historical context in which to understand the nature of castles in the period.
http://www.hirstarts.com/plans/wiztower.pdf
Curricular Connections (Competencies and Content)
| | |
| --- | --- |
| Identify a design issue | (5-ADST) |
| Identify the main objective for design and any constraints | (5-ADST) |
| Regular and irregular polygons | (Math 4) |
| Processes, materials, technologies, tools and techniques to support arts activities | |
Design and Make the Landscape (Key elements/Lesson Design/Format)
Using the geometric plan, students construct their castle model using individual bricks and white glue. When the project is built and the glue has cured, students paint the model using a "dry brushing" technique to create the appearance of depth and lighting on the brickwork. The base is created by placing layered ground covered material and foliage material according to the individual design created by the student.
Encourage students to create thematic settings for their castles which are in context with the time period and culture in which they are imagining.
Applications/Adaptations/Extensions
Read and write Fairy Tales or do an inquiry on Medieval History
Use excess bricks and other creative supplies like toothpicks and twine to design other features on the base, such as bridges and drawbridges, medieval tools etc…