Overview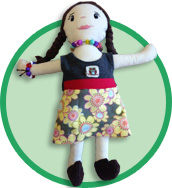 Using cardstock cut outs, material, thread, needles, stuffing and wool students will design and sew dolls to use in creating their doll community. This hands on instruction will support the big ideas in the Applied Design & Skills and Technologies curriculum, as well as incorporating elements from Math, Art and curriculum. Extensions of this project will cover Science, Math, Applied Design, Reading, Writing, Socials and Career Education.
Rationale (Why we are doing this?)
When students apply skills and understanding in a tangible, "hands-on" way, learning is enhanced, higher thinking skills are developed, and learning is fun. By replicating a "real world" community and using problem solving strategies to achieve a functioning society students will gain an understanding of cooperation and the needs of society.
Materials/Resources
35 sewing needles for kids
sewing baskets
sewing scissors
beads for necklaces and bracelets
string for necklaces and bracelets
8 pincushions
fabric for doll clothes
google eyes for dolls
two boxes of pins to hold material still while sewing
Tracers for doll bodies (cardstock)
hot glue and hot glue guns
thread for doll bodies and clothes
wool
buttons
Context and Background Knowledge
Students will need basic instruction on how to thread & sew with a needle and an understanding of how fabric is sewn together and stuffing is placed inside prior to finishing. Students will need to be aware of how pieces go together to create a front and back side as well as the importance of lining pieces up.
Curricular Connections (Competencies and Content)
Explore + Understand + Create (Key elements/Lesson Design/Format)
Make a product using known procedures or through modelling of others
Identify how their product contributes to the individual, family, community, and/or environment
Applications/Adaptations/Extensions
Trade between stores in doll world
Traditional clothes and beading-storytelling through beading
Weaving-combined with socials for first nations
Build traditional shelters
Potlach with dolls/diorama of scenarios
Mapping
Make clothes(hand stitiches or felting)
Felt in a bag- http://kleas.typepad.com/kleas/2007/05/tutorialfelting.html
Needle felting https://www.youtube.com/watch?v=nmXNk2wAHKU
Roller coaster: different tracks for friction comparison and coaster carts trial and error
Lamp for dolls using conductive thread
Wind powered car or tricycle for dolls
Murals for doll world?
Build buildings out of cardboard
Mail box
Parachute
Doll Book, vocabulary, write letters between characters (between classes/penpals), diary writing from dolls perspective
buy and sell goods and services in doll world (in free play?)
Special Notes
Let the students expand using their own brainstorming after reading a doll themed novel such as "The Doll People" by Ann Martin & Laura Godwin.