Overview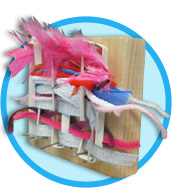 In this project, students build a weaving loom and create a woven piece on it. As part of the loom making process, students will use real tools including sandpaper, hammers and nails. They will also exercise their fine motor skills as they weave fibers onto the loom.
Rationale (Why we are doing this?)
This project introduces students to technologies that extend their capabilities. Using the real tools required for this project will help build student confidence with the tools, leading to further application in future Maker Projects. The project also explores weaving, which provides an entry point into local Aboriginal culture and how traditional arts can offer practical solutions to meet human needs.
Materials/Resources
Cedar blocks (approx. 8×8" – 1 block per student)
Elastic bands (thick)
Sandpaper/sanding blocks of various grit
Various textiles (e.g. ribbon, yarn, thin wire, feathers, etc.)
Finishing hammers
Finishing nails (allow for 12-16 nails per student)
Rulers
Safety goggles
Context and Background Knowledge
First Nations traditionally used Cedar for many purposes (eg: housing, clothing, functional objects and art) because it was strong and lightweight
Weaving is a traditional process in First Nations communities
Students must know how to safely handle a hammer and nails
Curricular Connections (Competencies and Content)
| | |
| --- | --- |
| Choose tools and materials | (K/1 – ADST) |
| Make a product using known procedures of through modeling of others | (K/1 – ADST) |
| Traditional and contemporary Aboriginal arts and art-making processes | (K/1 – Arts) |
| Explore elements, processes, materials, movements, technologies, tools and techniques of the arts | (K/1 – Arts) |
| Tell the story of designing and making their product | (K/1 ADST) |
Explore + Understand + Create (Key elements/Lesson Design/Format)
Whole class:
Students touch and hold materials and discuss their properties (risk assessment/safety)
Small groups/pairs:
Students sand cedar block until smooth
Students measure and mark points along two opposing edges of the cedar block (eg: every 2 cm)
Students hammer nails into marked points
Students stretch elastic bands between opposing nails
Whole class:
Students weave various pieces of textile through elastic bands
Applications/Adaptations/Extensions
Create a weave that follows a repeating pattern (K/1 – Math)
Use natural materials in place of textile
Create a "how-to" book
Use the skills acquired to create a functional geo-board